Annual Cattle Sale
E. B. & SHANE HARRIS INFLUENCE COMMERCIAL FEMALE SALE – ONE OF A KIND
What: Annual Cattle Sale / Auction
When: 2nd Saturday in November
Location: 4200 Cannady Mill Rd., Oxford, NC 27565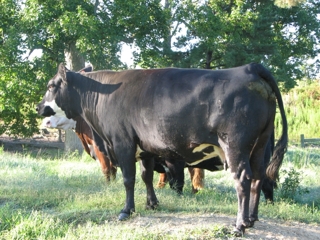 On the 2nd Saturday in November @ Granville County Livestock Arena – Cannady's Mill Rd. – Oxford, NC, we have our Annual Proven Matrons & Bred Heifers Sale. We sell on this sale our entire herd of commercial cows that are 7 years old. They are all Angus based cattle. They are due to calve November thru January, they are M & L frame cattle, average weight 1350#'s, have produced a calf every year in the same time frame, have excellent udders, good feet, have a lot of depth & spring in the rib to handle forages. These cattle are sold with a guarantee to have a live calf.
Bred 1st calf heifers due to calve January thru March, bred to calving ease Angus bulls, heifers were raised & developed by E. B. & Shane, will calve at approximately 2 years of age, they come from proven genetics for longevity & producing heavy feeder calves.
Also we will sell a few young bulls raised & developed here on the farm.
On this sale, we offer a KEEP' EM KIND option. At buyer's option, E. B. & Shane will purchase first offspring of cattle at this sale – steers will carry a $25.00 premium and heifers will carry a $50.00 premium above weekly livestock market average. Calves need to be weaned between six and nine months of age & follow a program similar to BQA requirements.